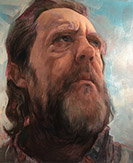 Artist, writer, man of the north-east
Simon was born in Jarrow and brought up in Hebburn in an area of northeast England that was previously defined by heavy industries such as shipbuilding and mining. He paints and draws a selection of post industrial men who, somewhat stereotypically, find their identities in the clothes they wear, the haircuts they sport and the football team they follow.
They live in real and imaginary towns and cities that are intersected by rivers that flow east into the North Sea. Above them, the skies are intersected by the vapour trails of aeroplanes leaving for places far away.
The painted men, however, always stay and, going forward, it is Simon's ambition to look beyond their haircuts and hoodies and explore who they really are and how they fit into their changing environment.