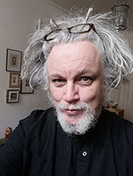 Originally from Trinidad and with a childhood spent there as well as in Libya, Scotland, Wales and England, Neil studied graphics, illustration and printmaking at Colchester and he has spent many years working not just in publishing but also in advertising and graphic design.
He's now lived in London for many years and is fascinated (and sometimes disappointed) by the changing face of the city. Old haunts disappear, favourite pubs vanish, only to be replaced by more blocks of flats and corporate architecture. The train set he made for his son shows many of the highlights of central London, actually painted on the baseboard.
For the Folio Society he's illustrated everything from Catch 22 to The Complete Works of Shakespeare. He approaches the most difficult subjects with a great deal of care and expertise - and the results have been hugely successful. Their illustrated limited edition of The Divine Comedy was sold out in three weeks.
In Bloomsbury's illustrated children's edition of Silk Roads by Peter Frankopan Neil chose to illustrate the various different periods by using art styles of that time, a feat which most artists would find daunting but he strode through the whole process in great style and the book is now available in twelve foreign editions.
Always fascinated by the idea of taxonomy, Neil's own book, One of a Kind, is published by Walker Books and Candlewick. It's an ingenious interweaving of the story of a young boy seen as a journey through various different means of classifying and sorting things into where they belong. Family members, different sorts of cats, different animals, musical instruments, vehicles, tools, clouds, buildings and many more. It's a fascinating collection, and his ability to define 24 different art styles on one spread is both very cleverly observed – and typically witty.
In 2021 Neil worked with Jim Kay on the illustrated edition of Harry Potter and the Order of the Phoenix for Bloomsbury. He enjoyed the challenge of working with very tight direction within strict rules for such a high-profile project and he produced some meticulous work.
He's now written a parable about an elderly couple who once made special bread which delighted the inhabitants of their town but they later fell foul of the corporate world. The first publication of this charming but chilling book will be in Italian, by Camelozampa, the Italian publishers of One of a Kind.
Neil's original paintings have found their way into collections around the world, and I'm pleased to say that I have some to sell here. His recent work is produced digitally but amongst other things I do have some original paintings from the magnificent editions of The Odyssey and The Iliad produced by Walker Books/Candlewick Press and written by Gillian Cross.
Also a selection of signed archival prints from many of his projects.