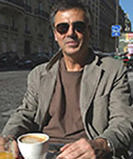 Gordon was born in Richmond on Thames and studied at Twickenham College of Art. He graduated in Illustration (S.I.A.D.) and was first represented by the agency, Young Artists (later Arena) in London.
He started by illustrating book covers for the UK publishing market then early in his career he visited New York with his illustration portfolio which resulted in working for many of the US publishers; firstly Bantam and Dell, but then also for Tor, Penguin, Avon, Pocket Books and Bookspan, largely for fantasy covers.
He also produced many covers for Western novels and the original paintings beame highly collectable. He sold them through galleries in Texas initially but now he sells directly to collectors.
He has exhibited paintings, drawings, illustrations and prints in London, Cardiff, Manchester, New York, Connecticut, Texas and, of course, his home town of Aberystwyth.
He currently works on the covers of many of the British bestselling historical fiction in the UK, and he's well known for his attention to detail, particularly with the heroines and their costume. He has now built a library of stock images for this genre of fiction and this is used to great effect by many of the European publishers.