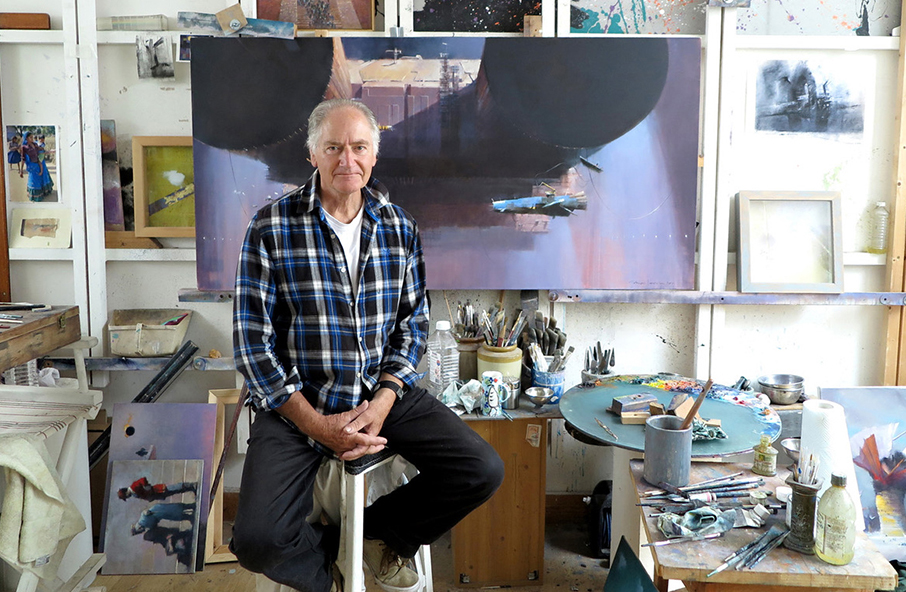 John was born in London, July 29th 1948. He began painting at 14 and entered Luton College of Art at 16. He attended the Fine Art course at Exeter in 1967 to study painting, and graduated from there in 1970. For six years he travelled and studied meditation.
In 1976 he began to produce paintings which expressed the preoccupations with scale and space that remain with him to the present day. His first exhibition was a shared show with the artist and architect Nicholas Gilbert Scott, held at the Northcott Theatre in Exeter University in 1977. Much of the work from that period was included in a book, MASS, published by Paper Tiger in 2000.
In 1984/5 he visited NASA. They invited him to witness a launch of the space shuttle and record the event in a painting, the first British artist to be honoured in this way. That work now hangs in the Kennedy Space Centre and is part of the Smithsonian Collection.
During the 1980's he started to illustrate book covers, mostly for US publishers, and continues to do that to this day. His work can be seen on covers of books by many of the great science fiction writers. In particular, John Scalzi, Ben Bova, Jack McDevitt and Orson Scott Card. He also works on private commissions, and he exhibits at the lIlluxcon/IX Arts exhibition in Philadelphia as often as he can, where he enjoys meeting fellow artists and collectors.
He talks about his work in the short films on his home page here, but this is one of his constants with John. "What eventually arises, may, or may not be exactly what was originally seen. But in this equation is the possibility that something unexpected may occur, which could be more magical than the artist might have imagined. And always, his guiding muse is the sense of scale, the atmosphere of being in an unknowable and unlimited space."
He continues to live and work in Devon, England. He is married and has a son and a daughter, and two grand-children.
In 2014 he selected some of his work to be published in a book, "The Art of John Harris: Beyond the Horizon" and he was also shortlisted for a Hugo Award for Best Artist.
In 2015 he won the Chesley Award for Life-time Artistic Achievement.
In 2020 he will be Artist Guest of Honour DisconIII, the world science fiction convention in Washington DC.
Photo: Paul Harris